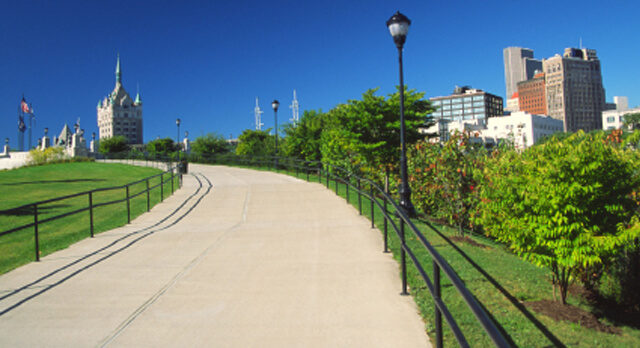 Land Use, Zoning and Planning Law Includes:
Special use permits
Site plan and subdivision approval
Use and area variances
Non-conforming use determinations
Requests for interpretation of zoning laws
Adoption and amendment of zoning laws
Municipal zoning and planning counsel
New York City ULURP
Overview
Young/Sommer helps developers, municipalities, individuals and environmental organizations navigate the complexities of local zoning and land use control laws involving special use permits, site plan and subdivision approvals, use and area variances, non-conforming use determinations, requests for interpretations of zoning laws and the adoption and amendment of zoning laws. Our knowledge of the local planning process allows us to provide cost-effective advice to our clients and obtain the required approvals as quickly and efficiently as possible.
Project Management/Professional Relationships
We work closely with our clients to assemble project proposals that meet their development needs while ensuring that the project is consistent with community character and planning objectives. These projects frequently require the assistance of other environmental professionals such as engineers, surveyors and planners. As part of our client service, we have established relationships with technical professional firms and engineers. We understand the relationship between law and science in "getting the job done."
Projects
In recent years, our land use attorneys have appeared before local zoning and planning boards on a wide range of projects involving construction and/or expansion of shopping centers and other commercial development, industrial facilities, sand and gravel mines, resort hotel/condominium developments, residential subdivisions, television broadcast facilities, cellular towers, wind farms and conversion of residential structures to commercial use.
SEQRA/Zoning
The firm has decades of experience navigating the New York State Environmental Quality Review Act (SEQRA) and various state and federal environmental laws. We have also appeared on behalf of clients at many scoping and workshop sessions with local boards and at public hearings. We have advised town boards on the adoption of zoning laws and amendments ranging from limited changes to significant updating of existing laws. Over the years, several of our attorneys have worked as counsel to various local zoning boards, providing us with valuable insight into zoning issues from the municipal perspective. Our familiarity with both sides of the zoning process allows us to work with others to foster cooperation and achieve the desired results.
New York City Protection
We also are regularly involved in zoning issues in New York City and are adept at working through the New York City Uniform Land Use Review Procedure. In New York City we primarily represent land owners and community groups who are concerned with projects that will adversely affect their properties and we are one of a few firms with the skills and political independence to represent the rights of affected communities from a potentially harmful land use decision. Recent cases in this area include challenges to the Atlantic Yards project in Brooklyn and the Yankee Stadium project.
The following Young/Sommer attorneys represent clients in this practice area.
Young/Sommer won an appeal for the City of Ithaca (Tompkins County) in a zoning dispute over the proposed expansion of... READ MORE
The firm represented Plaintiffs-Petitioners Anthony Gellert and Alexander Gellert in a combined proceeding brought pursuant to CPLR Article 78 and... READ MORE
The firm successfully defended New York real estate developer Southern Realty and Development, LLC ("Southern") in a State Environmental Quality... READ MORE
The firm represented Plaintiffs Lori Bergami and a group of neighboring property owners in a proceeding challenging the rezoning of... READ MORE
The firm represented Taylor Holdings Group, Ltd/Taylor Biomass Energy in overturning a lower court judgment that annulled several state and... READ MORE
The firm represented the plaintiff in a successful share holder derivative action and contract dispute involving the sale of commercial... READ MORE
The firm represented the Respondents in an Article 78 proceeding involving the proposed construction of a 29 unit wind farm.... READ MORE
The firm represented Ticonderoga Property Development LLC in its application in the Adirondack Park for a variance from Appendix Q3... READ MORE
In a case regarding the Plaintiffs' ability to rent out vacant rooms in their home, the firm successfully represented the... READ MORE
In an Article 78 proceeding, the firm represented the Applicant for a proposed 82 turbine wind farm project in the... READ MORE
The firm represented the defendants in this residential property dispute involving private covenants and restrictions in a homeowner's association. In... READ MORE