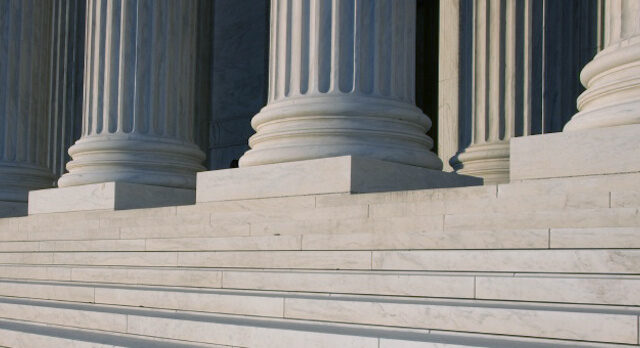 Litigation, Mediation, and Dispute Law includes:
Article 78 proceedings
Citizen suits
Cost recovery actions
Natural resource damages
Construction disputes
Environmental litigation
Permitting appeals and enforcement
Overview
Young/Sommer advocates vigorously for its clients whenever necessary. The firm has a successful track record representing our clients in a broad range of administrative, civil, and criminal matters, appearing before federal and state courts and a host of administrative agencies. We also regularly represent clients in arbitration and mediation proceedings. In all cases, our goal is help clients achieve their goals while taking the cost of litigation into account.
The following is a partial list of the firm's litigation-related practice experience:
Article 78 Proceedings
Young/Sommer has commenced dozens of Article 78 proceedings challenging government actions relating to zoning, environmental permitting, SEQRA, and other matters. Young/Sommer has also defended dozens of Article 78 proceedings on behalf of local government.
Citizen Suits
The firm has commenced and defended citizen suits arising under various federal environmental laws, including the Clean Water Act.
Cost Recovery/Contribution Actions and Natural Resource Damages
Our attorneys have helped clients commence and defend cost recovery and contribution actions arising under the Comprehensive Environmental Response, Compensation and Liability Act (CERCLA) and have brought dozens of actions to obtain insurance coverage (including duty to defend) for environmental claims.
Construction Disputes
Young/Sommer has extensive experiences in construction-related litigation on behalf of both contractors and municipalities, addressing issues such as public bidding, prevailing wage, Wicks Law, performance bonds, delay damages, collection, warranties, design defects, etc.
Environmental Litigation
Young/Sommer has extensive experience in successfully defending nuisance (common law and public nuisance) claims against controversial facilities (e.g., foundries, sludge management, solid waste, race tracks, children's camps).
Permitting Appeals and Enforcement
The firm regularly represents clients in permitting appeals before the Department of Environmental Conservation and other state and federal agencies. We defend clients accused of violating federal and state environmental laws. In that capacity, our attorneys have negotiated dozens of consent orders resolving a wide range of enforcement-related matters.
The following Young/Sommer attorneys represent clients in this practice area.
The Dutchess County Supreme Court recently granted a motion to dismiss brought by Young/Sommer LLC on behalf of two fuel... READ MORE
After extensive discovery proceedings in a case arising from the collapse of a state bridge, Mr. Hurst obtained summary judgment... READ MORE
Mr. Hurst obtained a decision granting media defendant's special motion to strike and awarding costs pursuant to Louisiana's SLAPP statute,... READ MORE
Mr. Hurst, in pro bono case, obtained an order annulling and vacating for lack of substantial evidence a prison disciplinary... READ MORE
Mr. Hurst obtained a trial court order [not appealed] quashing a non-party subpoena issued by the District Attorney to a... READ MORE
Mr. Hurst obtained a decision finding that a news report of a plaintiff's arrest is protected by Delaware fair report... READ MORE
Mr. Hurst obtained a decision annulling, on First Amendment grounds, a local ordinance requiring an electric utility to post signs... READ MORE
Mr. Hurst obtained a favorable decision from New York's highest court in a case of first impression decided upon Certified... READ MORE
The firm defended Global Companies against a citizen suit action seeking declaratory relief, injunctive relief, and civil penalties for alleged... READ MORE
The firm successfully obtained summary judgment for the Plaintiff in a gasoline supply contract dispute.  The judgment was awarded against... READ MORE
The firm represented the Backiels, owners of undeveloped lakefront property.  An unpaved driveway, built in the 1970s, connects the Backiel... READ MORE
The firm successfully obtained an order dismissing a Lien Law foreclosure action instituted against a corporate client and obtained clarification... READ MORE
The firm represented Plaintiffs-Petitioners Anthony Gellert and Alexander Gellert in a combined proceeding brought pursuant to CPLR Article 78 and... READ MORE
The firm successfully defended New York real estate developer Southern Realty and Development, LLC ("Southern") in a State Environmental Quality... READ MORE
The firm prevailed for Plaintiffs in a land boundary and title dispute involving property of three different parties in rural... READ MORE
The firm successfully defended an appeal made by landowners who sought $400,000 in property damages allegedly stemming from the acts... READ MORE
The firm represented the Defendant in a contract dispute involving the intent of an agreement made by Harvest Ridge Associates,... READ MORE
The firm represented Boro Recycling, Inc. ("Boro"). For approximately 26 years, Boro had been providing services exclusively to "dealers" and... READ MORE
In this case, the firm prevailed in having Stratis Contracting Corp.'s petition for an Article 78 proceeding denied. The firm... READ MORE
The firm represented the Village of Coxsackie (the "Village") in a successful federal court action seeking to enforce a contract... READ MORE
The firm represented a Delaware County milk processing facility in its successful effort to compel New York City (the "City")... READ MORE
The firm represented Lexington Realty Development Corp. and RFB, LLC in obtaining a judgment directing the Town of Kent to... READ MORE
As the State moves to set the stage for high speed rail service, the rights of property owners whose access... READ MORE
In this landlord-tenant case involving a shopping center lease, the appellate court affirmed the trial court's award of summary judgment... READ MORE
This a commercial landlord-tenant case in which the appellate court reversed the trial court, and granted the landlord summary judgment... READ MORE
The firm represented the defendants in this residential property dispute involving private covenants and restrictions in a homeowner's association. In... READ MORE
The firm represented Defendant homeowners, in an action commenced by their downstream neighbors for property damages stemming from the alleged... READ MORE
The firm represented the Town of Delhi. The Village of Delhi commenced a combined CPLR article 78 and declaratory judgment... READ MORE
The firm represented the developer-respondent, RFB, LLC. RFB and its contract-seller Kent Acres Development Co.,Ltd., who proposed to construct an... READ MORE